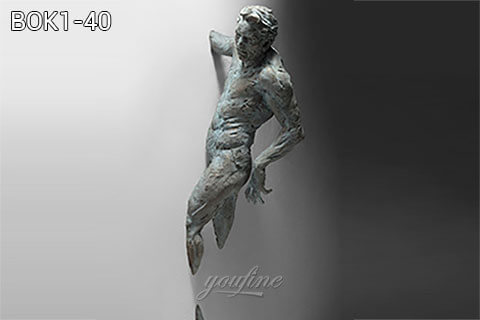 Bronze Statue Emerging From Walls Matteo Pugliese Statue For Indoor Decoration BOK1-40
Modern people pay more attention to indoor decoration to create a more refined living environment, so the indoor decoration sculpture has become a hot choice, which is also the reason that Bronze Matteo Pugliese Statue become so popular.
Item No: BOK1-40
Size: Life Size or Customize
Material: Antique Bronze
Insurance: Cover All the Risk
Place of Origin: Hebei, China
Package: Strong Wooden Crate

Bronze Statue Emerging From Walls Matteo Pugliese Statue For Indoor Decoration BOK1-40 prices
Bronze Matteo Pugliese Statue Introduction:
Bronze Matteo Pugliese Statues are these hard-bodied men emerging from bare, white walls, which are the works of Milan-based artist Matteo Pugliese. The most apparent and impressive aesthetic choice that Pugliese has chosen in this series entitled Extra Moenia is the decision to present his sculptures in fragments. A bent knee opens the opportunity to represent one whole form in at least two pieces. It is the spectator's mind that makes up the limbs and other body parts that aren't visible. The body movements and configurations are equally intriguing, especially those that are contorted and reflect muscle tension.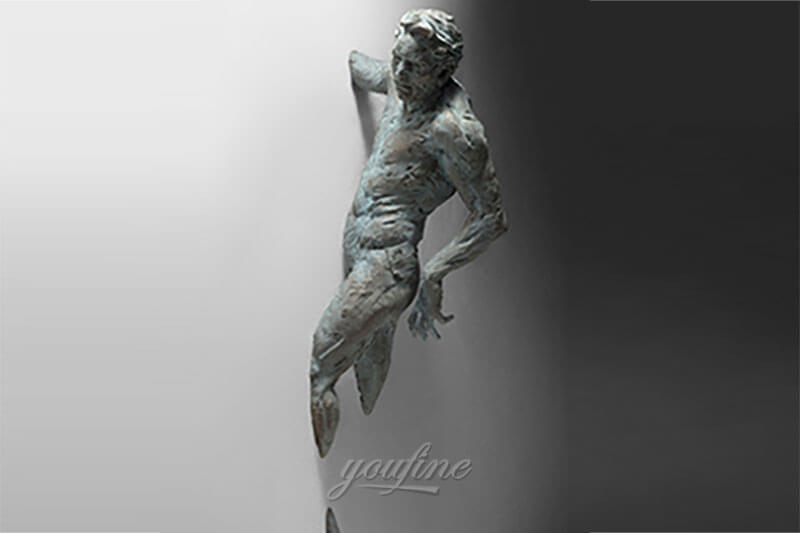 The Characters of Bronze Matteo Pugliese Statue:
The figurative bronze and silver-plated bronze Matteo Pugliese statue represent strength and struggle, as these warriors burst through the pristine surface. In some cases, it's difficult to tell whether the statues are materializing out of the vertical encasement or actually submerging into a pool of white. Are they breaking free or being engulfed? It's a fascinating thought to ponder. Either way, Pugliese brilliantly exhibits his skilled mastery and understanding of the athletic male form.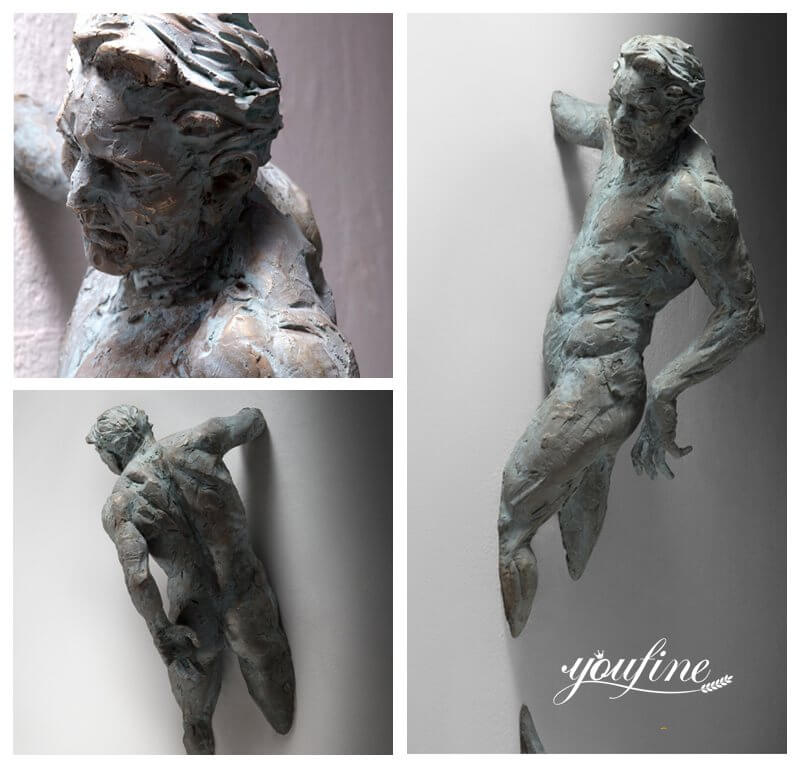 The High Comments on Bronze Matteo Pugliese Statue:
On innovative bronze Matteo Pugliese statues, Luca Beatrice, Italian art critic and curator of the Italian Pavilion at the 53° Venice Biennial, stated: "His sculpture is absolutely figurative and at the same time absolutely contemporary. These are adjectives that at first sight are hard to force into coexistence. Pugliese has adopted the path of a renewed Pop Art, original and hyper-contemporary, that dismantles the old dictates on statuary into strongly characterized and newly gestated expressive fragments…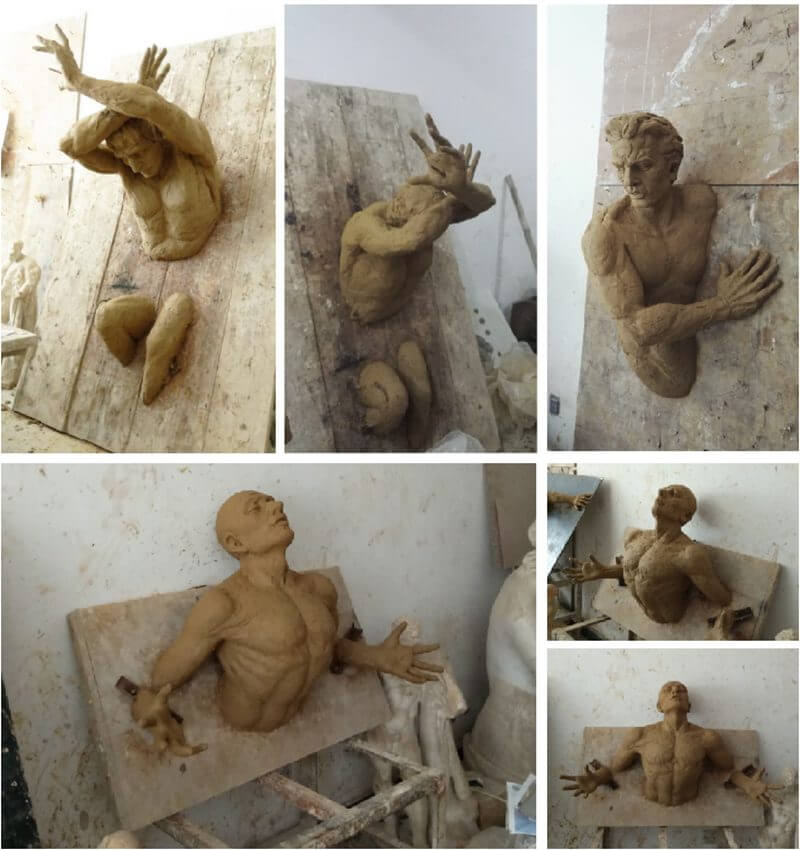 One can discern in the tense nerves and imposing limbs of his sculptures the dense musculature of the giants on the Sistine Ceiling or the sixteenth-century anatomical studies of Leonardo da Vinci, and find in the poses some hint of bacchanals, saints (Sebastian in particular), Last Judgments – but Pugliese avoids the risk of a sculpture so purely classical as to seem anachronistic…. In a display of titanic potency, his modern Telamons do not support the weight of the architecture holding them but are an integral part of a whole from which they try to break free. The bodily violence imposed by the material is emancipated in the sculptural details, rendered dramatically expressive by Pugliese's hands."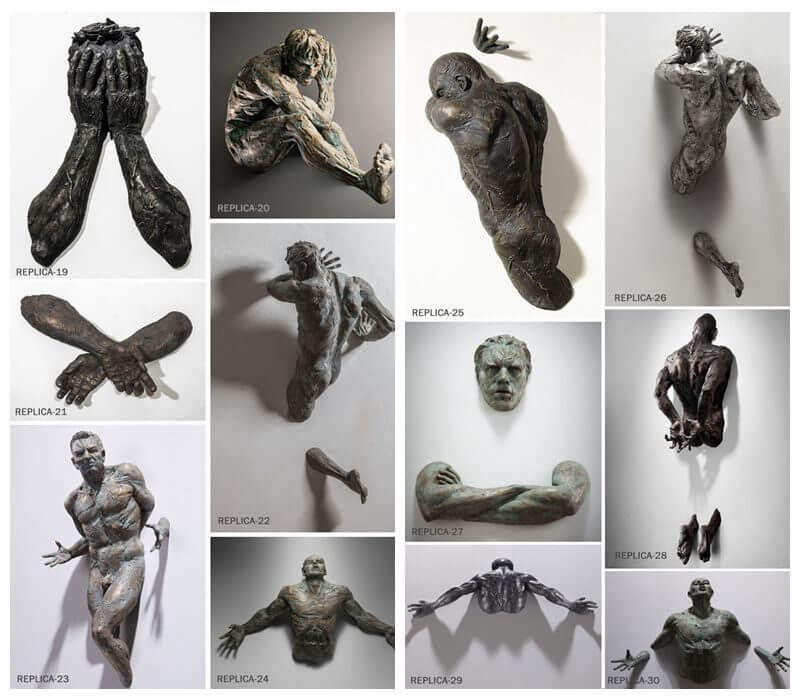 Bronze Matteo Pugliese statues are simple and won't occupy too much of your space, but they could express a high artistic sense and beautiful feeling. And its price is very competitive. If you have interest, pls feel free to contact us or leave messages! We will reply to you right away to share more with you!